Dix repas locaux du Nord de la France
Ten Local Foods of Northen France
Carbonnade Flamande
Ingrédients (pour 4 personnes) :- 1 kg de boeuf maigre à braiser (paleron, gîte, hampe, etc ...)
- 1 à 2 cuillères à soupe de cassonade
- 1 litre de bière brune (Pelforth brune pour un goût délicat, ou Leffe Brune pour un goût plus sucré)
- 250 g de lard fumé entier (pas des lardons sous vide)
- 5 à 7 tranches de pain d'épice (si possible maison)
- 1 cocotte en inox ou en fonte émaillée avec couvercle
Préparation :

Couper la viande en cube de 2 à 3 centimètres de côté. Découper grossièrement les oignons et couper le lard en gros lardons. Faire fondre le beurre et faire suer les oignons dedans 10 minutes pour les
ramollir (feu au minimum à couvert). Ajouter le lard en augmentant légèrement le feu , remuer régulièrement en essayant de garder couvert le plus possible.
Une fois le lard bien rose, retirer le tout (sauf le jus) et le réserver dans un plat.
Mettre le feu au maximum et mettre la viande dans la cocotte, remuer régulièrement (ne pas couvrir).
La viande doit se colorer de tous les côtés, elle va finir par rendre pas mal de jus. Retirer la cocotte du feu, mettre la viande dans un plat en conservant le jus dans la cocotte.
Diluer la cassonade dans le jus de viande et mettre sur le feu à fond pour le réduire de moitié. Une fois réduit, mettre le feu au minimum et remettre le mélange lard-oignons en le mêlant au 'sirop', ajouter la viande et mélanger à nouveau, ajouter le bouquet garni et recouvrir de bière entre (80 cl et 1 litre), saler très légèrement.
Recouvrir délicatement toute la surface avec le pain d'épice 'moutardé'. Laisser mijoter à couvert 3 heures sans remuer, tant que le pain d'épice n'est pas fondu (retirer le bouquet après 1 heure ou 2 maximum).
En cours de 'mijotage', rectifier l'assaisonnement si besoin.
Si après trois heures, le jus est encore trop liquide, laisser encore mijoter en laissant le couvercle en partie ouvert, la sauce doit être légèrement collante en surface mais bien liquide en dessous et ne doit surtout pas brûler au fond.
Ingredients (serves 4):
- 1 kg lean braising steak
- 1 to 2 tablespoons brown sugar
- 1 litre
of dark beer
- 400 g onions
- 250 g smoked bacon
- 5-7 slices of ginger bread
- Butter
- A pressure cooker with a stainless steel, enamel or cast iron lid
Preparation:
Cut the meat into 2-3cm cubes. Coarsely cut onions and cut the bacon into lardons. Melt the butter and sweat the onions for 10 minutes to soften. Add the bacon and slightly increase the heat, stirring regularly, trying to keep covered as much as possible.
Once the bacon is cooked, remove everything (except the sauce) and set aside in a dish.
Turn the heat up to maximum and put the steak in the pan, stir regularly (not covering), the meat should be brown on all sides.
Remove the pan from the heat, put the meat in a dish retaining the juices in the casserole dish.
Dissolve the sugar in the gravy and boil until it has reduced by half. Mix in the bacon and onion and stir, add the meat and the bouquet garni and cover with beer between (80 cl and 1 liter), salt slightly.
Gently cover the entire surface with spicy 'mustard'. Simmer, covered, for 3 hours without stirring, (remove the bouquet garni after 1 hour or 2 max).
Whilst it is simmering adjust the seasoning if necessary.
If after three hours, the juice is too liquid, allow to simmer, leaving the lid partially open, the sauce should be slightly sticky surface but liquid at the bottom and should definitely not burn the bottom

Coq à la bière
Préparation 20min
Cuisson 2h
Ingrédients (pour 6 personnes) :
- 1 coq de +/- 2 kg/2,5 kg (avec son foie - l'idéal un bon coq fermier)
- 350 g de champigons
- 1 L de bière brune
- 3 belles échalotes émincées
- 3 cuillères à soupe d'huile
- 20 cl de crème épaisse
- 5 cl de genièvre
- sel et poivre noir du moulin
- 3 à 4 cuillères à soupe de farine tamisée
Préparation :
Débitez le coq en morceaux (éventuellement demandez-le à votre boucher).
Epicez les morceaux de volaille avec sel et poivre, les rouler dans la farine, tapotez-les pour enlever l'excédent de farine.
Mettez à chauffer l'huile dans une cocotte en fonte et faites-y dorer les morceaux de coq jusqu'à belle coloration de toutes les faces.
Mettez les morceaux en attente.
Dans la cocotte de cuisson de la viande, faites revenir les échalotes émincées sans les colorer (ajoutez 1 cuillère à soupe d'huile si nécessaire), ajoutez-y les champignons émincés et faites cuire le tout maximum 5 minutes en surveillant bien.
Ajoutez les morceaux de coq, arrosez-les de Genièvre et faites flamber.
Ajoutez la bière, la viande doit être recouverte complètement et laissez cuire 2 heures.
Retirez les morceaux de viande et champignons à l'aide d'une écumette, mettez en attente.
Faites réduire la sauce à découvert sur un feu vif.
Pendant ce temps faites cuire le foie (pas trop il doit garder son moelleux) et passez-le au hachoir.
Ajoutez le foie mouliné dans la sauce et ajoutez la crème, veillez à ne pas faire bouillir la sauce, remuez sans cesse afin qu'elle épaississe, ajoutez les champigons et rectifiez l'assaisonnement.
Dressez les morceaux de viande dans un plat de service et recouvir la volaille avec la sauce.
Servir avec des frites, ou pommes vapeur.
Preparation 20 min
2 hours cooking
Ingredients (serves 6):
- 1 cock - 2 kg / 2.5 kg (with its liver)
- 350 g mushrooms
- 1 L of beer
- 3 large shallots, minced
- 3 tablespoons oil
- 20 cl cream
- 5 cl Gin
- Salt and freshly ground black pepper
- 3 to 4 tablespoons flour
Preparation:
Cut the cock into pieces
Rub chicken pieces with salt and pepper, roll in flour, tap them to remove excess flour.
Heat the oil in a cast iron pot and let it brown the chicken until golden brown all over.
Put the pieces to the side
In the same pot , cook the chopped shallots without browning (add 1 tablespoon of oil if necessary), add the sliced mushrooms and cook 5 minutes max while monitoring well.
Add the chicken, and flambé everything in the gin
Add the beer, the meat must be completely covered, and cook for 2 hours.
Remove the meat and mushrooms and put them to the side
Reduce the sauce, uncovered on a high heat.
Meanwhile cook the liver and pass it through a grinder.
Add the liver to the sauce and add the cream, do not boil the sauce, stir constantly so that it thickens, add the mushrooms and adjust seasoning.
Arrange the meat in a serving dish and cover the poultry with the sauce.
Serve with chips or boiled potatoes.
Préparation 30mn
Cuisson : 35 mn
Ingrédients (Pour 12 crêpes) :
- 180 g de farine
- 6 tranches de jambon cuit
- 250 g de champignons de Paris
- 3 échalotes
- 100 g de beurre
- 3 oeufs, 2 jaunes d'oeufs
- 75 cl de lait
- 25 cl de crème fraîche
- 75 g d'emmenthal râpé
- 1 pincée de noix de muscade râpée
- sel fin, poivre blanc du moulin
Préparation :
Préparez la pâte à crêpes avec 150 g de farine, les oeufs entiers, le jaune d'oeuf, la moitié du lait et 1 pincée de sel.
Laissez-la reposer un moment avant de faire cuire les crêpes et de les réserver.
Nettoyez et lavez les champignons. Coupez-les en fines lamelles. Pelez les échalotes et hachez-les menu. Faites fondre les échalotes dans 50 g de beurre. Ajoutez les champignons. Salez et poivrez
Ajoutez la noix de muscade.
Laissez cuire, à couvert, sur feu doux, pendant 20 minutes.
Confectionnez un roux avec 30 g de beurre et 30 g de farine. Laissez-le refroidir, puis incorporez-y le reste de lait, bouillant.
Ajoutez 10 cl de crème. Enfin, mélangez les champignons à la sauce obtenue.
Garnissez chaque crêpe de cette sauce. Déposez dessus une demi-tranche de jambon. Recouvrez de sauce.
Roulez ensuite la crêpe et déposez-la dans un plat beurré. Une fois toutes les crêpes garnies, nappez avec le reste de crème fraîche.
Saupoudrez de fromage râpé. Parsemez avec le reste de beurre, en noisettes.
Faites gratiner, sous le gril du four, pendant 8 minutes.
Servez aussitôt.
Preparation 30 minutes
Cooking time: 35 minutes
Ingredients (12 pancakes):
- 180 g flour
- 6 slices cooked ham
- 250 g mushrooms
- 3 shallots
- 100 g butter
- 3 eggs, 2 egg yolks
- 75 cl milk
- 25 cl cream
- 75 g grated Swiss cheese
- 1 pinch of grated nutmeg
- Salt, freshly ground white pepper
Preparation:
Prepare the batter with 150 g of flour, whole eggs, egg yolk, half the milk and a pinch of salt.
Let it rest a while before cooking the pancakes and set aside.
Clean and wash the mushrooms. Cut into thin slices. Peel shallots and chop. Melt 50 g butter and add the shallots. Add the mushrooms. Salt and pepper
Add the nutmeg.
Cook, covered, over low heat for 20 minutes.
Prepare a roux with butter 30 g and 30 g of flour. Let it cool, then mix in the remaining milk, boiling.
Add 10 cl of cream. Finally, combine the mushroom sauce.
Top each pancake with the sauce. Place top half a slice of ham. Cover with sauce.
Then roll the pancake and place it in a buttered dish. Once all the crepes filled, drizzle with remaining cream.
Sprinkle with grated cheese. Drizzle with the remaining butter and hazelnuts.
Put it all under the grill for 8 minutes.
Serve immediately.
Potjevleesch

Préparation 15mn
Cuisson : 3 h
Ingrédients (pour 6 personnes) :
- une terrine en terre haute
- 300 g de poulet
- 300 g de veau (flanchet)
- 300 g de lapin
- poitrine de lard
- oignons
- thym, laurier
- sel, poivre
- vin blanc ou vinaigre de vin
- eau
Préparation :
Coupez les oignons en rondelles.
Dans le fond de la terrine, diposez une couche de rondelles d'oignon, du sel, poivre, thym et laurier.
Alternez ensuite
les couches de viande (poulet, lapin, veau ou poitrine de lard).
Remettez une couches d'oignon et de condiments. Continuez ainsi en alternant oignons/viande.
Versez un mélange eau et vin blanc ou eau et vinaigre en proportions égales (la viande doit être entièrement recouverte).
Portez à ébullition et laisser cuire à feu doux.
Si besoin est, ajouter un peu de mélange eau/vin blanc ou eau/vinaigre de vin. Laissez refroidir.
Placez ensuite la terrine au frigo pendant au minimum 12 h pour que la gelée puisse prendre convenablement.
Preparation 15 minutes
Cooking time: 3 h
Ingredients (serves 6):
- An earthenware dish
- 300 g chicken
- 300 g veal (flank)
- 300 g of rabbit
- Bacon
- Onions
- Thyme, bay leaf
- Salt, pepper
- White wine or white wine vinegar
- Water
Preparation :
Cut the onions into rings.
In the bottom of the bowl, put a layer of onion, salt, pepper, thyme and the bay leaf.
Then alternate layers of meat (chicken, rabbit, veal or pork breast).
Put another layer of onion and condiments. Continue alternating onion / meat.
Pour a mixture of water and white wine or water and vinegar in equal proportions (the meat must be completely covered).
Bring to boil and cook over low heat.
If necessary, add some water / white wine or water / vinegar. Let cool.
Then place the bowl in the fridge for at least 12 hours for the jelly to set completely.
Endives au gratin
Ingrédients :
- 1 cuillère à soupe

de c

rème fraîche
- 4 tranches

de

Jambon Blanc
Préparation :
Préparez les endives. Coupez la base avec un couteau. Lavez-les.
Laissez-les entières et faites-les cuire dans une cocotte minute à la vapeur pendant 8 minutes. Faites-les égoutter sur du papier absorbant.
Faites chauffer le four th. 8 (240°C).
Dans une casserole, faites fondre les 50 g de beurre.
Ajoutez la farine et remuez à la spatule jusqu'à l'obtention d'une pâte brun clair. Attention de ne pas laisser brûler !
Hors du feu, ajoutez petit à petit le lait en remuant vigoureusement à l'aide d'un fouet pour éviter les grumeaux.
Remettez sur le feu et continuez ainsi tout en remuant jusqu'à ce que le liquide épaississe.
Ajoutez la crème, salez et poivrez. Coupez le feu quand la béchamel a épaissi et a pris un aspect crèmeux.
Roulez les endives dans les tranches de jambon, disposez-les dans un plat à gratin et recouvrez de béchamel.
Parsemez de gruyère râpé.
Mettez à cuire au four pendant 20 minutes
Ingredients:
- 50 g butter
- 1 tablespoon fresh cream
- 4 Endive
- 50 g of wheat flour
- 125 g grated cheese
- 4 slices Ham
- 75 cl Milk
- Salt and Pepper
Preparation:
Prepare the chicory. Cut the base with a knife. Wash them.
Leave them whole and cook in a pressure cooker for 8 minutes. Let them dry on paper towels.
Heat the oven to 240 ° C.
In a saucepan, melt 50g butter.
Add flour and stir with a spatula until it is is light brown. Be careful not to burn it!
Remove from heat and gradually add milk, stirring vigorously with a whisk to avoid lumps.
Return to heat and keep stirring well until the liquid thickens.
Add cream, salt and pepper. Turn off the heat when thickened and took a creamy consistency.
Roll the endives in ham slices, place them in a baking dish and cover with the creamy sauce.
Sprinkle with grated cheese.
Bake for 20 minutes
Tarte au sucre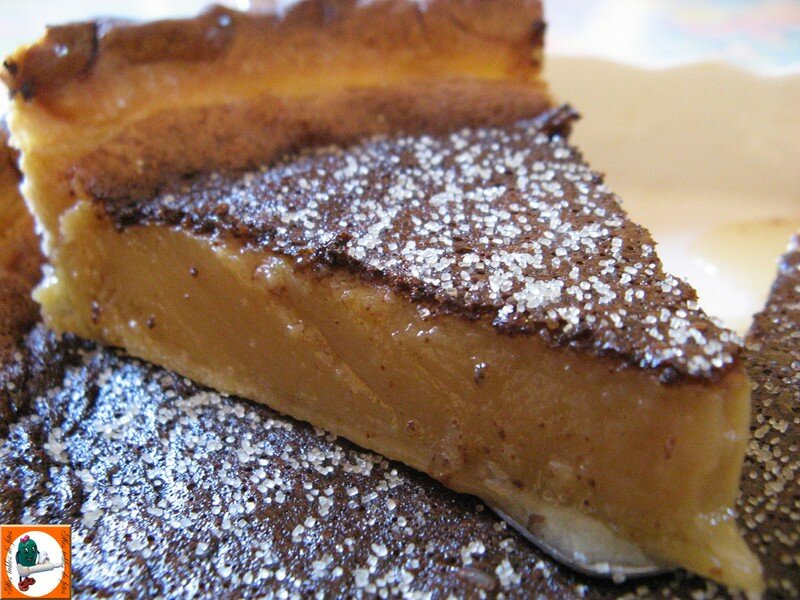 Préparation : 20 min
Repos de la pâte : 40 + 15 min
Cuisson : 45 min

Ingrédients pour 6 personnes :
- 250 g de farine
- 80 g de
beurre
- 200 g de cassonade
- 3 jaunes d'oeuf et deux
oeufs
- 1/2 dl de lait
- une pincée de
sel
- une cuillerée à soupe de
sucre
- 10 cl de crème fraîche
- 10 g de levure de boulanger
Préparation :
Faire dissoudre dans le lait tiédi la levure et le sucre .

Mélanger soigneusement, ajouter le beurre en pommade, la farine en pluie, le sel puis les jaunes d'oeufs.

Travailler énergiquement la pâte jusqu'à ce qu'elle se décolle du fond de la terrine lorsqu'on la soulève avec la main.

Recouvrir d'un torchon et laisser reposer la pâte pendant 40 minutes dans un ambiance tiède.

Etendre la pâte dans un moule à tarte bien beurré et la recouvrir de cassonade.

Laisser reposer un quart d'heure.

Battre les deux oeufs en omelette, ajouter la crème et verser sur la tarte pour masquer la cassonade.

Faire cuire à four chaud (220°C) pendant 15 minutes, puis abaisser la température (150°C) et laisser cuire encore 30 minutes.

Servir tiède.
Preparation: 20 min
Resting tiime for the dough: 40 + 15 min
Cooking time: 45 min
Ingredients for 6:
- 250 g flour
- 80 g butter
- 200 g brown sugar
- 3 egg yolks and two eggs
- 1 / 2 dl milk
- A pinch of salt
- One tablespoon of sugar
- 10 cl cream
- 10 g yeast
Preparation :
Dissolve the yeast and the sugqr in the warm milk.
Mix thoroughly, add the butter, flour, salt and egg yolks.
Work the dough vigorously until it comes off the bottom of the pan when lifted with by hand.
Cover with a cloth and let rest for 40 minutes in a warm place.
Spread the batter into a well buttered pie dish and top with brown sugar.
Let it stand for fifteen minutes.
Beat two eggs, add the cream and pour over the cake to cover the brown sugar.
Bake in hot oven (220 ° C) for 15 minutes, then lower the temperature (150 ° C) and cook for 30 minutes.
Serve warm
Tarte au li-bouilli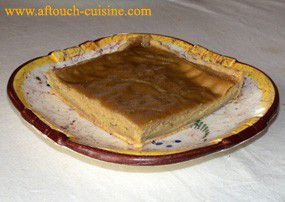 Préparation : 3 heures
Cuisson : 30 mn

Ingrédients :
Pâte à tarte :
- 250 g farine
- 100 g beurre
mou
- 2 oeufs
- 1 verre de lait tiède
- 1 cube de levure du boulanger
- 2 cuilleres à soupe de sucre
- sel
Libouli :
- 1 litre de lait (réserver 1 tasse de côté)
- 3 oeufs
- 250 g de sucre
- 80 g farine
- sel

Préparation :
Préparation de la pâte :

Délayez la levure dans le lait avec le sucre.
L'ajouter à la farine avec les autres ingrédients, pétrir pour former une boule élastique. Laisser reposer pendant 2 heures.

Abaisser la pâte et la diviser en 3 boules. Les faire reposer 1 heure.

Préparation du libouli :

Faire bouillir le lait avec la moitié du sucre. Battre les oeufs avec l'autre moitié du sucre, la farine, la tasse de lait restante et le sel.


L'ajouter au lait bouillant et faire épaissir sur feu doux en mélangeant en arrêtant 3 mn après ébullition.

Etaler les pates à tarte et y verser le libouli. Faire cuire au four à thermostat 7 ou 8, pendant 45 mn. Le dessus doit être alors marron et jaune. Si la couleur n'est pas atteinte, poursuivre la cuisson.
Prep Time: 3 hours
Cooking time: 30 minutes
Ingredients :
Pie Crust:
- 250 g flour
- 100 g soft butter
- 2 eggs
- 1 cup warm milk
- 1 sachet of yeast
- 2 tablespoons sugar
- salt
Libouli :
- 1 liter of milk (reserve 1 cup aside)
- 3 eggs
- 250 g sugar
- 80 g flour
- salt
Preparation :
Preparing the dough:
Dissolve yeast and the sugar in the warm milk.
Add it to the flour with the other ingredients, knead into a ball. Let it stand for 2 hours.
Roll out the dough and divide into 3 balls. Let them stand for 1 hour.
Preparation of libouli:
Boil the milk with half the sugar. Beat eggs and mix with the remaining sugar, flour, the other cup of milk and salt.
Add it to boiling milk and thicken over a low heat, stirring 3 minutes.
Bake at gas mark 7 or 8, for 45 minutes. The top should be brown and then yellow. If the color is not reached, continue cooking.
Ingrédients pour 3 à 4 personnes :

- 2,5 dl de lait
- 3 oeufs
- 75 g de sucre
de canne
- 6 tranches épaisses de pain
paysan

Préparation :
Mixez les oeufs, le sucre
et le lait.

Mouillez-y les tranches de pain
.

Deux solutions : -Soit passer à la poêle dans du beurre.

-Soit beurrer légèrement un plat à gratin, y répartir les tranches, verser le reste du mélange (rajouter du
sucre
si envie), laisser cuire jusqu'à que les tranches soient dorées.
Ingredients for 3-4 people :
- 2.5 dl milk
- 3 eggs
- 75 g cane sugar
- 6 thick slices of bread
Preparation :
Mix eggs with the milk and sugar.
Coat the slices of bread with this mixture (do not use all the mixture)
Lightly butter a baking dish, arrange the slicesin the bottom, pour over the remaining mixture (add more sugar if wanted) and cook until the slices are golden.
Tarte aux maroilles

Temps de préparation : 25 min
Temps de cuisson : 10 min

Ingrédients (pour 3 à 4 personnes):

- 1 pâte levée (pâte à pizzaou à pain
: possibilité de l'acheter chez le boulanger)
- 1 maroilles
- 1 petit pot de crème fraîche épaisse (20 cl)
- 1 jaune d'oeuf
- 1 peu de paprika
Préparation :
Etaler la pâte.

Gratter la croûte du maroilles
(ne pas la retirer). Le couper en tranches fines que l'on dépose sur la pâte.

Ajouter de la crème fraîche mélangée à un jaune d'oeuf. Ajouter un peu de paprika


Faire cuire environ 10 min, à four bien chaud (thermostat 8 / 240°C).
Preparation time: 25 min
Cooking time: 10 min
Ingredients (for 3-4 people):
- A yeasty dough (pizza dough or bread douch pre-bought at the bakery)
- 1 Maroilles cheese
- 1 small pot of double cream (20 cl)
- 1 egg yolk
- A little paprika
Preparation:
Roll out the dough.
Scrape clean the rind of the Maroilles (do not remove). Cut into thin slices, and place them on the dough.
Mix the cream with the egg yolk and add to the dough. Add a little paprika.
Bake for about 10 minutes in a hot oven (gas mark 8 / 240 ° C).
Crème Brulée à la chicorée
Ingrédients (

6 personnes

):
- 25 cl de lait
- 60 g de sucre en poudre
- 7 jaunes d'oeufs
- 3 cl de chicorée liquide Leroux
- 50 cl de crème liquide
- 6 cuillères à soupe de cassonade (ou de Vergeoise brune)
Préparation:
Préchauffez le four th. 3/4 (100°C).

Dans un bol ou un batteur, mélangez le lait, le sucre, les jaunes d'oeufs, la chicorée Leroux Liquide et la crème liquide.

Versez la préparation dans des ramequins à ras bord puis enfournez. Laissez cuire 1h.

Sortez les ramequins du four et laissez-les refroidir.

Au moment de servir, parsemez de cassonade ou de Vergeoise brune et faites brûler au chalumeau, au fer ou sous le grill mais attention avec cette dernière méthode ca brûle vite j'en ai fait souvent l'expérience.
Ingredients (6 persons):
- 25 cl milk
- 60 g caster sugar
- 7 egg yolks
- 3 tablespoons liquid chicory
- 50 cl whipping cream
- 6 tablespoons brown sugar
Preparation :
Preheat the oven to gas mark 3 / 4 (100 ° C).
In a bowl or mixer, combine milk, sugar, egg yolks, liquid chicory and the cream.
Pour the mixture into ramekins and fill to the brim. Cook for 1 hour.
Remove the ramekins from the oven and leave cool.
Just before serving, sprinkle with brown sugar and brown aith a kitchen blow torch, or under the grill but be careful with this method as the sugar can burn very easily.